Brighton and Hove Greens propose 5.9% council tax rise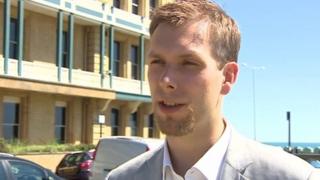 Brighton could see a council tax increase of 5.9% under plans unveiled by the Green Party.
The authority faces a £25m shortfall next year, and the Green administration wanted the funds to safeguard services, council leader Jason Kitcat said.
A local referendum would be held in May 2015, with the tax rise planned for the 2015-2016 budget, he added.
Any authority wanting to increase council tax by more than 2% must put their plans to a local vote.
This year, the Greens wanted to raise tax by 4.75% but members voted for Labour's proposal for a 1.99% rise.
'Budgets shrink'
Mr Kitcat, who has said he will not stand for re-election next year, said: "We are committed to delivering essential public services for our citizens.
"However, to do this we do need to raise council tax to ensure those services can keep going as demand continues to grow while budgets shrink."
Green councillor Ollie Sykes, lead member for finance, said an increasing population and decreased council funding would lead to a deficit of about £70m over the coming years.
He said: "A council tax rise of 5.9% will bring in an extra £6m - money that can be spent on keeping open adult social care, disability services, parks, children's services and women's refuge centres."
He said he hoped the Labour group would not use "Tory rhetoric" to block the proposal.
Labour councillor Warren Morgan, leader of the Labour and Co-operative Group, said: "We've not seen value for money from this Green administration.
"They failed on most of their manifesto pledges on delivering schools and delivering new homes and getting recycling up to 70% - it's down to 25% - so no-one trusts this Green council to deliver."
Councillor Geoffrey Theobald, leader of the Conservative Group, said Brighton's council tax increase was the highest in the country proposed last year and undoubtedly would be the highest in the country again this year.
He said: "There's no chance of this succeeding, this is just a gimmick."