Overgrown verges 'making Sussex roads dangerous'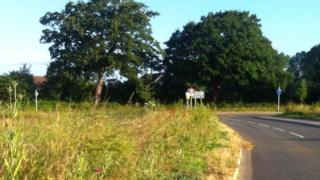 Drivers in Sussex are being put at risk because hedges and grass verges are being allowed to grow too much, road safety campaigners claimed.
Motorists have complained that some junctions and roundabouts have become hazardous because of tall vegetation.
Councils in East and West Sussex admitted they are unable to trim back some growth owing to budget restraints.
However, they said more cutting is under way with particularly dangerous areas being prioritised.
Drivers have highlighted junctions and roundabouts like those in East Preston, Broadbridge Heath and the Drove in Newhaven as being particularly dangerous because vegetation was blocking the line of sight.
Motoring journalist Graham Benge believes the situation is dangerous because "good driving is all about planning".
End of contract
"You should be able to plan your way through a roundabout and key to that is visibility," he said.
West Sussex County Council has admitted that some roundabouts had not been cut in spring as normal because of the expiry of a maintenance contract.
It said grass cutting was now being undertaken by the council with more trimming of plant growth under way.
Both county councils in East and West Sussex claim budget cuts meant there was a limit to how often verges and roundabouts could be trimmed.
Roger Williams, the head of highways for East Sussex County Council, said about £750,000 was spent by the council each year on grass cutting with priority given to urban areas.
He admitted the situation was not "ideal" but "we have to balance our budgets".
He added that some of the problem areas were on land not owned by the council and it was the responsibility of private landowners to keep these places trimmed.