Hit-and-run cyclists in Eastbourne injure four-year-old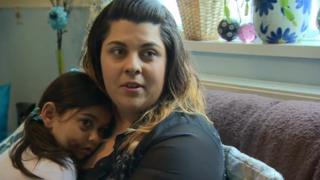 A four-year-old girl was injured after being knocked down by two hit-and-run cyclists while walking with her mother in a no bike zone in Eastbourne.
Aaliyah Raj was on the promenade with her mother Samita on Thursday evening when two men crashed into her.
She was taken to Eastbourne District General Hospital and treated for cuts and bruises to her face and body.
Sussex Police have launched an appeal to find the two cyclists, who failed to stop.
Ms Raj said the cyclists had ridden up from behind her when they crashed into Aaliyah.
'Shouted abuse'
She said her child had "blood pouring from her" and was "horrified" by her injuries.
Ms Raj claimed the two men had shouted abuse at her.
As they cycled off, they said "she should not have been there and that I should have been watching her," she said.
Aaliyah was discharged from hospital later that evening and according to her mother is "becoming her bubbly self again".
The two men have both been described as white and in their 20s.
Sgt Julian Williams has urged the cyclists to contact police. CCTV images of the men may be released to the media if they do not come forward, he added.