Bexhill-Hastings link road named Combe Valley Way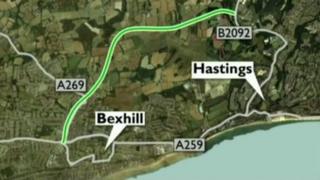 The £113m Bexhill-Hastings link road has been officially named as Combe Valley Way.
The road, where demonstrators staged treetop protests in January 2013, is due to open in May 2015.
A shortlist of possible names was drawn up following a consultation promoted by the Bexhill Observer, and a public vote narrowed this list down to six favourites.
Rother District Council's planning committee had the final say.
A spokeswoman said that Combe Valley Way was the "clear winner".
"During the discussion, a number of councillors commented that this was the most appropriate name as the new road crosses Combe Valley and signals the presence of Combe Valley Countryside Park to local residents and visitors alike," she said.