Littlehampton retailers call for 'total street drinking ban'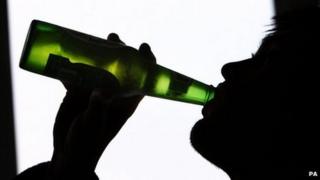 Retailers have called for a total ban on street drinking in Littlehampton as they say it is ruining businesses.
Traders believe shoppers are not visiting the area because they are being scared off by people getting drunk and acting aggressively.
Police have powers to take alcohol from people in parts of the town, but retailers believe this is not being used regularly enough.
Authorities said a complete ban would not solve the problem.
Andrew Sleeman, who runs a cycle shop on Beach Road, said the problem had got worse over the last two years.
'Very short term fix'
He said people were getting drunk from 09:30 BST and would start fights and act abusively towards other pedestrians.
Mr Sleeman said he wanted "a total ban" where "if they walk out of a shop with an open can of beer... it is taken off them."
Insp Mark Clothier, from Sussex Police, said a ban would only be "a very short term fix and authorities need to deal with fundamental issues such as the mental health of heavy drinkers".
Arun District Council licensing team manager Sarah Meeten said a scheme to stop the sale of super strength alcohol had been implemented after the success of similar plans elsewhere.