Permission granted for waste incinerator in Ford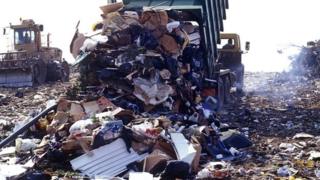 Permission has been granted for a waste management incinerator to be built in Ford which would create electricity for thousands of homes.
The facility, to be built by waste management company Grundon on a disused industrial site, would process up to 200,000 tonnes of waste every year.
Developers claim the incinerator will have little impact on the community while reducing landfill waste.
Opponents have said they will fight the proposals.
The application for the facility, to be based on a 13.3 acre (5.4 hectare) site, was unanimously voted for by the council.
Three to five years
Andrew Short, a director for Grundon, insisted that there would not be a "significant impact" for residents at a site which is a brown field area.
He said the proposal included legal obligations on the amount of traffic which would be allowed on the site and the hours lorries could travel.
However, Trevor Ford, the chairman of Ford Parish Council, said he would write to local MP Nick Gibb to try to stop the proposals.
He said residents were concerned by potential health risks and "up to 60 lorries" that would travel to and from the facility each day.
Mr Ford added that the parish council had been hoping to build between 600 and 1,000 houses on the site but feared this was now "scuppered".
"The problem we've got is if they built the incinerator then who would want to buy a house there?" he said.
Grundon hope the incinerator will be working within three to five years.