Gatwick baggage delays prompt hand luggage advice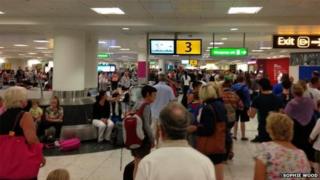 Travel experts have advised air passengers to pack essential items in their hand luggage after baggage reclaim delays at Gatwick Airport.
The airport and baggage handling company Swissport have brought in extra staff after disruption last weekend.
Passengers reported waiting up to three hours for their luggage and some were told to go home without their bags.
Travel organisation Abta said people should carry essential items. Swissport said it was currently meeting targets.
An Abta spokeswoman said: "We hope people can pass through Gatwick smoothly this weekend. But if people are concerned, it would be a good idea for them to put essential items in their carry-on bags."
She said Abta was confident extra staff brought in by Gatwick and Swissport should help address the problem.
Swissport apologised for delays last weekend but said it was unable to accommodate arriving off-schedule flights, even though it had increased its staff.
In a further statement, it said: "Swissport can only reiterate that it has robust systems in place during the forthcoming weekend and will remain in place throughout the peak summer period."
It said it had contingency plans to deal with any off-schedule airline activity.
But the baggage handler has been criticised by Gatwick, which said Swissport failed to meet standards.
Swissport has drafted in 40 extra workers and Gatwick said it was drafting in an extra 60 staff this weekend to support Swissport.
Gatwick also said a free baggage home delivery service had been introduced.
'Robust contingency'
On Friday, Gatwick said the airport was operating well.
A statement said: "We would like to reiterate that the issues we saw last weekend were limited to arriving bags, and delivery has been good since the weekend.
"No departing passengers were affected."
It said no issues with arriving baggage were anticipated over the weekend and a robust contingency plan was in place.
About 138,000 passengers are expected to pass through the airport on Friday, and 132,000 on Saturday.
Sunday is expected to be the airport's busiest day with 144,000 passengers expected, and 141,000 on Monday.
On Thursday, it emerged airline Monarch had ended two contracts with Swissport, following last weekend's problems.
The BBC understands a new baggage handler will be appointed by November.
Willie Walsh, chief executive of IAG, the parent company for British Airways, told ITV News: "I think they [Swissport] have some issues at Gatwick that they need to address, and if they don't address them to our satisfaction then we have options.
"At this stage we are working with them. We are satisfied they are putting the right measures in place and I'm confident they will resolve them.
"If they don't we will certainly look at other opportunities."