Police 'pleased' with Eastbourne pier fire response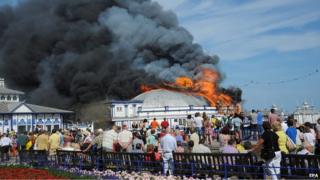 Police investigating the fire which ripped through Eastbourne Pier have said they are "very pleased" with the response to an appeal for information.
The Grade II Victorian pier, which was built in 1870, was badly damaged when the blaze broke out on Wednesday.
Sussex Police said they were treating the fire as suspicious and appealed for people who had taken photos or videos near the time to contact them.
The force said around 40 people had emailed responses its appeal.
Significant lead
Detectives were specifically looking for images taken on or at the entrance of the pier in the time leading up to the fire.
Det Insp Mark O'Brien said in the first couple of days they had a "good selection".
He added: "Someone out there might just have the picture that will give us a significant lead in this investigation."
A dedicated team is looking at all the responses, studying CCTV footage and viewing forensic evidence from scenes of crimes officers and fire investigators.
About 80 firefighters, along with RNLI crews, tackled the fire on the pier which destroyed the dome-shaped arcade and much of the platform around it.
On Friday, David Cameron and George Osborne visited the site and pledged £2m of government money to help restore it.
Meanwhile a fund organised by the Chamber of Commerce, the Eastbourne Hospitality Association, Eastbourne Borough Council and Liberal Democrat Eastbourne MP Stephen Lloyd, has already raised more than £2,000.