Brighton funeral held for actress Dora Bryan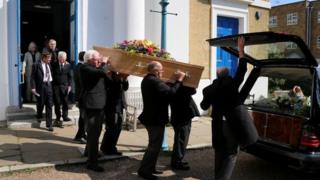 Hundreds of people gathered to celebrate the life of veteran British actress Dora Bryan whose funeral has been held in Brighton.
Bryan, known for her roles in Last of the Summer Wine and Absolutely Fabulous, died on 23 July, aged 91.
Laughter filled St George's Church in Kemp Town as her sons gave a eulogy and described their happy childhood.
Mourners included actor Christopher Biggins who described as her fantastic, a one-off and "a wonderful woman".
In his eulogy, Bryan's son Daniel Lawton told people how his mother once accidentally drove her car into a charity shop.
He said she phoned their father to say she was OK and it did not matter because she had seen a lovely blouse.
"There was something about mum," he said. "People could approach her and if you had a dog that was just fantastic."
Fifty-year career
Mr Biggins said his friend was "as mad as a snake."
"It's not often you get in our business a star who's so nice and is a true star," he said. "She really loved people and they really loved her."
Reverend Andrew Manson-Brailsford, who led the service, said Bryan had been heavily involved in the church and the Kemp Town community.
He said she had faced losses including that of her daughter Georgina, and her own personal demons, but she had never lost her faith.
"She wanted to make a difference in people's lives," he said.
Bryan's coffin was carried into church to the sound of her own voice singing Hello, Dolly! from the musical she starred in.
A song Bryan wrote about her husband, Just My Bill, was played during the service and the funeral began with the hymn Jerusalem, which was sung at her husband's funeral in 2008.
The church was decorated with black and white photographs of the actress and a large screen displayed a slideshow of her career.
Bryan performed into her 80s and had been living in a nursing home in Hove when her health deteriorated.
During her 50-year career, her film roles included a Carry On film and British classics such as The Blue Lamp and The Great St Trinian's Train Robbery.