Whitehawk Hill dig hopes to shed light on first Brighton inhabitants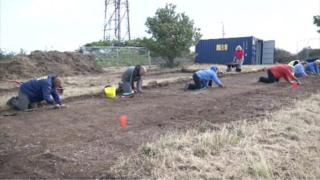 Archaeologists are carrying out a dig in an effort to discover more about the Neolithic inhabitants of the area around Brighton.
The site at Whitehawk Hill dates from the Neolithic period and was first occupied more than 5,000 years ago.
Whitehawk Camp is one of Britain's earliest Stone Age monuments and is marked with a series of circular ditches and banks.
The dig is expected to continue until March next year.
Brighton and Hove Council said the circles represented "the earliest ritual circles in northern Europe" predating Stonehenge and Avebury by up to 1000 years.