Brighton and Hove leaseholders charged tens of thousands for repairs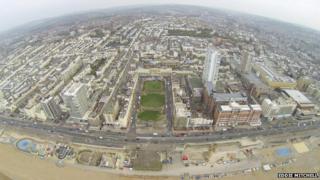 The Brighton and Hove Leaseholders Association has met with the government over "excessive bills" for improvements to properties where the council owns the freehold.
The association said many of its members faced bills for tens of thousands for improvements.
The invoices are being issued by a contractor working on behalf of Brighton and Hove City Council.
The authority owns the freehold of 2,678 flats and maisonettes.
Sarah Carter bought the leasehold of a former council flat in 2006 and has recently received an estimated bill of more than £34,000 for planned building work.
She said: "It's just beyond your imagination, where you're going to get that money from or how you're going to pay for it?
"And it's beyond your comprehension that you can get a letter through the post that obligates you, with no say in how much that bill is going to be."
She said the council had suggested the option of a five-year interest-free loan, which would increase her monthly payments by £500 a month, and told her she could alternatively get a mortgage.
'Help and advice'
The leaseholders association met with the Competition and Marketing Authority in London earlier, saying leaseholders should be able to choose their own contractors to carry out any work needed on their homes.
Last month, Eric Pickles, Secretary of State for Communities, introduced a new law capping the amount councils can charge leaseholders for repairs.
The new directions limit the amount councils and housing associations can charge for future work which is wholly or partly funded by the government.
Outside London, the maximum level will be levied at £10,000 in any five-year period.
A Brighton and Hove Council spokeswoman said: "We do understand that some leaseholders face difficulty with payment for large major works charges and we do provide them with help and advice on a number of payment options.
"All resident leaseholders are protected and individual arrangements for required payments are made according to every personal situation."
Regarding the directive, she said: "This new law is about capping charges for future works programmes that receive government assistance, including funding for Decent Homes 2015/16.
"Brighton and Hove has already met its Decent Homes target and so is not eligible for Decent Homes funding for 2015/16 - therefore the capping charges do not affect Brighton and Hove.
"Wherever possible the council does apply for eco-funding and grants - for example for insulation and heating work - to keep the costs down for leaseholders."