Haywards Heath drivers 'ignoring one-way system'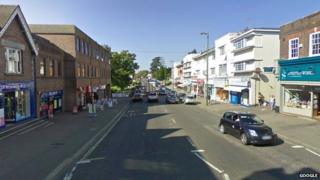 Motorists are ignoring the one-way system in Haywards Heath where a water main is being installed, it is claimed.
South East Water said drivers were ignoring diversion signs and driving dangerously through the roadworks.
West Sussex County Council (WSCC) said the decision to install the one-way system and change the traffic flow was taken to ensure safety.
The water company is upgrading an old water main in Hazelgrove Road. The six-week project began on 26 August.
Desmond Brown, head of engineering, said: "The safety of the public and our workforce is our top priority when upgrading water mains like this.
"Unfortunately, there have been a number of instances of motorists ignoring the one-way system, not only putting their lives at risk, but the lives of others too."
WSCC cabinet member for highways and transport Pieter Montyn, said: "We know that temporarily changing the flow of traffic around Haywards Heath may be disruptive to the local community.
"However, the decision to install the one-way system was taken to ensure everyone's safety while keeping traffic around the town flowing."
Northbound traffic on Hazelgrove Road is unaffected, but motorists travelling south have to follow the one-way system diversion, which is clearly signposted.