Brighton refuse drivers start industrial action over pay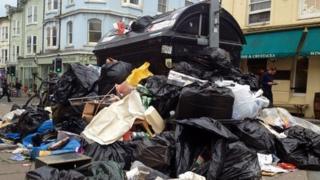 Refuse and recycling truck drivers in Brighton have started industrial action after talks over pay, staff grading and responsibility failed.
Members of the GMB union are refusing to work overtime or collect rubbish that is not in bins from Friday. A one-day strike is also planned for Monday.
Brighton council said it had been unable to meet the union's demands.
The GMB said its members did not take the action lightly and it had been trying to resolve things since April.
The union claims people at the council are doing equivalent jobs to its members, but being paid more.
'No role changes'
It also said the authority had failed to "consult meaningfully" over new working practices and long-standing issues over round allocation and distribution.
Richard Bradley, Brighton and Hove City Council's head of City Clean and Parks, said: "We met with the GMB union to try and reach a resolution and avoid industrial action.
"The council is unable to meet their demands of increasing the pay of refuse and recycling charge-hand drivers as there have been no changes to these roles and this would break the council's recognised job evaluation scheme.
"The council has honoured the agreement made last year and many parts of the City Clean service are doing a fantastic job.
"We remain fully committed to discussions to try and prevent the disruption of service to residents."
Charles Harrity of the GMB union said: "The members who are taking this industrial action are also inhabitants of this city. They know that it's an inconvenience.
"It is not something that they do lightly and it is not something that they do at a whim.
"They are taking action because of the inaction of the local authority to resolve these disputes."
A series of strikes last summer led to waste piling up on the streets.