West Sussex trust plea to review 'A&E threat' contract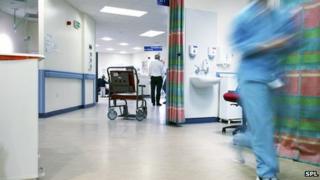 A hospital trust has called for a £235m health contract to be reviewed amid claims it could end up unable to run its two A&E units.
Western Sussex Hospitals, which also bid for the work, raised concerns after the five-year deal for musculoskeletal (MSK) care went to health group Bupa.
Hospital chiefs said the knock-on effects were "potentially significant".
But commissioners said Bupa wanted to work with hospitals and there was no intention to destabilise A&E services.
Campaigners opposing what they have called NHS privatisation staged a protest on Monday and will hold a public meeting next month.
'Really worried'
The NHS trust's medical director Dr George Findlay said the Bupa contract covered planned MSK care, while the trust's hospitals would provide emergency trauma care.
But he said the staff who provided planned care were the same staff who provided emergency trauma care and added: "We're really worried that this move may affect our ability to provide that emergency care."
He said trauma services relied on a significant number of highly-trained surgeons and added: "If you take the elective bit out and 'cherry-pick' parts of it, that may leave us with an unsustainable rota and not able to provide trauma services on two sites.
"The knock-on effects are then quite potentially significant - can we support two emergency departments and A&E departments on both sites?"
He has called on commissioners to reconsider their decision.
'High quality'
Dr Katie Armstrong, chief officer of Coastal West Sussex CCG, said the CCG was concerned about speculation over A&E, which would cause understandable worry.
She said: "There is no intention to destabilise these services.
"Our preferred provider wishes to work with the local hospital to deliver musculoskeletal services from next January."
She said the CCG had been clear trauma services would remain unaffected and added Bupa would talk to providers about the future service as a matter of urgency.
In a statement, Bupa said: "We are committing to providing excellent health and care services to patients.
"The partnership enables us to bring our complementary skills and expertise together to benefit patients through integrated and high-quality healthcare."