Drugs search in Brighton leads to weapons haul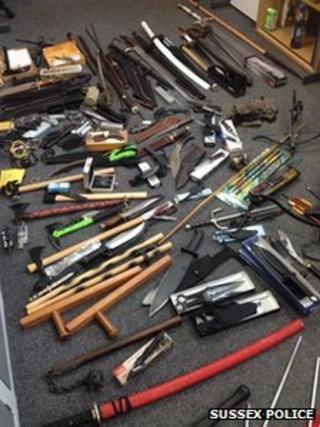 More than 160 weapons including knives, swords, daggers, axes and crossbows have been found at a flat in Brighton.
Sussex Police made the discovery after executing a Misuse of Drugs Act search warrant at the address in Viaduct Road.
A quantity of what was believed to be cannabis was also found. A 44-year-old man was arrested on suspicion of possession with intent to supply drugs.
Some plastic weapons, said by police to be designed so that they would not set off a metal detector, were also seized.
Sgt Ned Edwards said: "There was almost every kind of weapon you could imagine inside the flat.
"It is the largest haul I have seen in more than 10 years.
"They were all modern weapons and appear to have been purchased online."