West Sussex fire service cuts approved to save £1.6m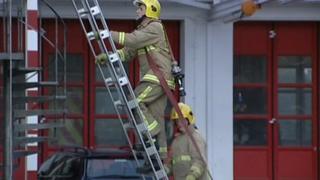 Cuts in the number of firefighters and fire engines in West Sussex have been approved, although all its fire stations will remain open.
The cuts, which aim to save £1.6m in the year 2015-16, include changes in shift patterns as well as a reduction in overall staff numbers.
West Sussex County Council said the changes would create a fire service "fit for the 21st Century".
The Fire Brigades Union (FBU) said it would make the service less resilient.
The number of 24-hour crewed immediate response fire engines will stay the same, but one will move from a temporary base in Horsham to a permanent location in Littlehampton.
Specialist equipment
Second fire engines at Midhurst, Petworth, and Storrington will be removed, along with the third fire engine at Crawley - all of which are crewed by retained firefighters.
About 27 jobs will go but there will be more investment in specialist equipment and training to support communities during severe weather conditions.
Councillor Lionel Barnard said the service was being adapted to take account of the fact that the number of emergency calls received by the fire service had fallen and the types of incident crews responded to had changed.
"This isn't just about money," he said.
"If we didn't have to save a penny these changes would still be needed because this is about improving our service and building a fire service that is fit for the 21st Century."
But Mick Cambers of West Sussex FBU, said that if it wasn't about money there would still be the same number of firefighters and trucks.
"They are resources that make the service resilient and we think that is being impacted on," he said.
"This is on the back of about three years of cuts already. In the past few years they have closed three fire stations."