West Sussex Zumba zombies attempt world record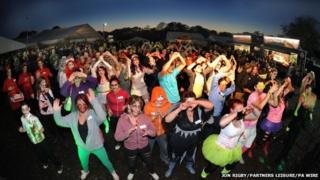 Nearly 200 Zumba dancers have dressed up as zombies in a bid to set a new world record.
Some 183 people took part in the attempt, for the largest crowd of zombies taking part in a fitness class, at Tulleys Farm near Crawley on Saturday.
Farm spokesman Stuart Beare said the event had been registered with Guinness World Records.
He said they were waiting to find out if the firm recognised their attempt.
"We had some amazing costumes and make-up and we were delighted to see many dressed as sporty zombies for the occasion," he said.
"We have registered the event with Guinness World Records, but as they don't currently have a category for the largest Zumba class featuring zombies we will have to wait to find out if Guinness recognises it."
The class, led from a stage by an instructor and a team of dancers, saw the participants dance to songs including Michael Jackson's Thriller, The Time Warp, and special mixes including Dracula Tango and a Ghostbusters/Gangnam Style mash-up during the 15-minute set.