Fish killed in flood prevention work at Horsham reservoir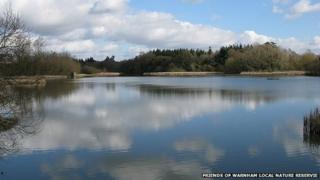 Thousands of fish have died at a West Sussex nature reserve after workers were unable to close a sluice gate during flood prevention work.
Jake Everett, warden at Horsham's Warnham Mill Pond Reservoir, said a computer system failure meant the gate would not shut in time.
"We are absolutely devastated - it was my worst day at work so far," he said.
The Environment Agency said it very much regretted what happened but human life and properties were never at risk.
Mr Everett said thousands of adult breeding fish as well as this year's fry were washed downstream as the mill pond was emptied on Monday.
Invertebrates lost
Fresh water invertebrates were also washed away with layers of silt.
"Collecting fish downstream that were already dead and trying to save the ones that were on the bank dying was very depressing," he said.
The 17-acre mill pond is part of a 70-acre nature reserve in the centre of Horsham.
The water levels were being lowered during construction work to improve the dam to prevent flooding during extreme weather conditions.
Mr Everett said assessments were now being done to establish how many fish were lost before attempts were made to restock the reservoir.
David Robinson, operations manager for the Environment Agency in Sussex, said damage downstream towards the River Arun was not as bad as had been feared at first.
"We need to work with Horsham District Council to assess the impact on the nature reserve and work with them to make sure there is an appropriate remedial response," he said.
"The essential construction work will continue on the site and we will be conducting a robust review of how we operate this gate in the future."