Brighton bomber Magee is friend of victim's daughter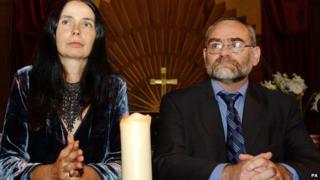 The daughter of a Conservative MP killed in the IRA Brighton bombing 30 years ago has said she understands why the bomber planted the device.
Jo Berry, the daughter of Sir Anthony Berry, now travels the world promoting peace and reconciliation with the republican bomber Patrick Magee.
"I would say he is a friend," she said. "It is an unusual friendship but I care about him."
She said forgiveness was hard but she understood why he turned to violence.
'Empathy and understanding'
"I don't like to use the word (forgiveness)," she said. "For me it is more about empathy and understanding. And the empathy is about understanding from his perspective why he did it.
"I am always going to be against any violence, but if I understand why he, and others, chose to use violence then that can help me to look at how we can make the world a place where people are less likely to use violence."
Sir Anthony was among five people who died when the explosion ripped through the Grand Hotel on 12 October 1984.
Thirty people were injured in the attack during the Conservative Party conference, but Prime Minister Margaret Thatcher escaped relatively unscathed.
Trade Secretary Norman Tebbit and his wife Margaret were among those hurt. Lady Tebbit remains paralysed from the neck down.
At the time of the bombing, Ms Berry, now a mother in her 50s, was a 27-year-old meditation student who had sympathised with the IRA hunger strikers in the Maze prison.
She said the Brighton bombing was a massive shock.
"I didn't just lose my father in that bomb, I lost a part of me and I felt very strongly that I was now part of the conflict in Northern Ireland," she said.
Magee, who planted the bomb a few weeks before the conference, received eight life sentences in 1986 but was released under the terms of the Good Friday Agreement in 1999.
A year later Ms Berry met him at a friend's house in Dublin. She now runs the Building Bridges for Peace charity, and reconciliation talks have taken her and Magee to places including Palestine, the Balkans, Rwanda and Colombia.
Ms Berry believes her father would have approved of her actions.
She said: "I hope he would have understood and given me his support. I think he would have. I am not a politician but, in my own way I think he'd understand that I am trying to change things."
'Getting humanity back'
Ms Berry and Magee will be in Brighton on Sunday to take part in a panel discussion at The Old Market in Hove to mark the anniversary.
Magee has declined to give interviews, but Ms Berry believes he has changed.
"When he planted the bomb he wasn't seeing human beings," she said. "It was a strategy, and now he sees wonderful human beings. It has been about him getting his humanity back. That has changed him, definitely."
The Grand Hotel will mark the anniversary with a minute's silence at noon on Sunday. Staff will gather round a plaque in the lobby which was unveiled by Lord Tebbit five years ago.
The flag on the hotel's roof will be flown at half mast and the flags on the front of the building will be taken down as a mark of respect.
General manager Andrew Mosley said: "It is an opportunity to remind the staff and ourselves of what happened 30 years ago on that day.
"To reflect on what it must have been like for our colleagues at the time and to remember those who lost their lives, those who were injured, the community in Brighton that was so badly affected and members of the emergency services who were called to the blast.
"The message we want to send above all else is that we have not forgotten what happened here 30 years ago."