Celtique Energie appeals against test drilling refusal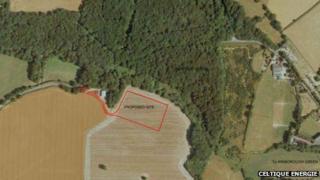 A shale energy company has lodged an appeal against a refusal of permission for it to test drill for oil and gas.
West Sussex County Council's planning committee rejected Celtique Energie's application to conduct exploratory tests near Wisborough Green in July.
The refusal, thought to be the first time a council has thrown out a planning application by a shale energy company, was welcomed by campaigners.
The firm claims the reasons for the rejection were "fundamentally unsound".
The council said it turned down the application because Celtique did not demonstrate that the site, in a conservation area just outside the South Downs National Park, was the best available.
'Dark shadow'
Local campaigners and environmentalists feared that the exploration would eventually lead to fracking for oil or gas.
Brenda Pollack, from Friends of the Earth, said: "This appeal will cast a dark shadow over the lives of local residents."
Geoff Davies, Celtique Energie's chief executive, said: "We are firmly of the view that West Sussex County Council has not followed the spirit or the letter of government policy or good practice in dealing with this planning application, which is totally compliant, comprehensive and of high quality.
"Therefore we have no option but to lodge an appeal with the Planning Inspectorate, for it to take a fair and objective view.
"From our detailed studies we believe that this is an optimal location to undertake exploratory drilling to quantify the amount of untapped oil or gas resources present in this part of the Weald Basin, which we think has the potential to be nationally significant."
Celtique also had an application turned down to test for oil and gas in the South Downs National Park, near Fernhurst.
The company has not yet decided whether to appeal against that decision.