Connah Smith denies Brighton nurses murder bid charges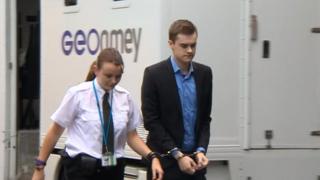 Two trainee nurses were stabbed, doused with petrol and almost set on fire by a man in an ordeal which lasted more than seven hours, a court has heard.
Connah Smith, 20, denies attempting to murder Gabby Price and Megan Parson in their Dean Street home, Brighton, on 29 and 30 March.
Lewes Crown Court heard Mr Smith, of Vernon Terrace, Brighton, stabbed one victim in the legs and the other in the neck.
The trial continues.
Mr Smith covered both the women in petrol and threw lit matches at them but failed to set them alight.
He had previously admitted two counts of false imprisonment, two counts of threatening to kill and two counts of wounding with intent to cause grievous bodily harm.
Sussex Police said one of the women, who were aged 20 and 21 at the time of the attack, was known to Mr Smith.
They were treated at the Royal Sussex County Hospital in Brighton for stab wounds.
The jury was shown a video of Ms Price giving evidence to police.
'I'm going to kill you'
In it she described how Mr Smith dragged her into her house and stabbed her in the legs.
She also described how he stabbed her housemate in the neck and the mouth then tried to drown her in the bath before dousing them in petrol.
The court heard throughout the ordeal she told police how he was saying: "You know what's going to happen, you know I'm going to kill you.
"You know you are not going to leave here."
The trial is expected to last 10 days.