Bowls club closure fear over Hove leisure centre plans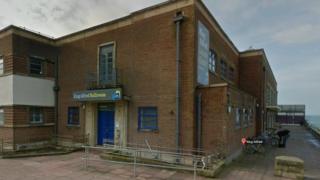 A bowls club claims it will be forced to close if facilities at a Sussex leisure centre are downgraded.
Brighton and Hove City Council is planning a £40m redevelopment of the King Alfred Leisure Centre in Hove.
The plans include cutting the number of bowls rinks from six to three and club members based there say it would not be big enough to hold competitions.
A petition is calling on the council to alter the plans. The authority said the proposals were minimum requirements.
The £40m development plans include a swimming pool, plus teaching and children's pools, a six-badminton-court hall, the bowls rink facilities, 70-piece gym, workout studio and 180 parking spaces.
'Simply no reason'
About 60 members of the King Alfred Indoor Bowls club use the rinks at the leisure centre.
Graham Cox, the Conservative parliamentary candidate for Hove and Portslade and Brighton and Hove city councillor, has started the online petition asking for the plans to be reconsidered.
He said: "I am fully behind the club on this issue.
"There is simply no reason to downgrade what we have in place already."
Geoffrey Bowden, chair of the council's economic and culture committee, said: "Developers have been provided with the minimum requirements for a new facility.
"It is hoped that it will be possible to deliver a viable scheme that exceeds the minimum requirements and provides larger facilities, including six rinks for indoor bowls."
The council is seeking partnership with the private sector to deliver the scheme.