Weald and Downland Open Air Museum given £4m lottery cash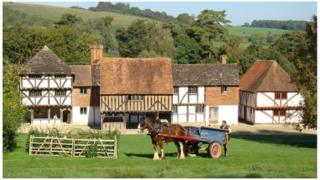 A rural museum has been granted £4m from the Heritage Lottery Fund to build new tourist facilities.
The Weald and Downland Open Air Museum, in Singleton, West Sussex, was awarded the money to build new ticketing, retail and catering facilities.
An annexe, which can be used as a classroom or for functions, will also be built.
Museum director Richard Pailthorpe said the project has been planned for more than 10 years.
He said: "Without the support of the Heritage Lottery Fund it would have been impossible for the museum to have progressed with its ambitious scheme."
Stuart McLeod, head of Heritage Lottery Fund in the South East, said the museum provided an "important link" to the rural heritage of the region.
He said: "Not only does it help us understand how past generations worked and lived, but it guarantees the future of some of the region's most historic buildings and the continuation of traditional skills and knowledge."