Brighton civil union couples become married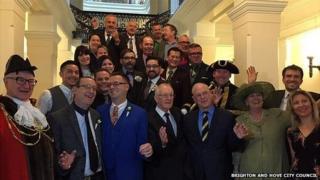 Ten same-sex couples have converted their civil partnerships into marriages in Brighton - on the first day it was allowed by law.
It follows parliamentary approval of a change to the Marriage Act.
The conversion is an administrative process but Brighton and Hove Register Office has also offered all couples celebratory ceremonies.
In London, retail expert Mary Portas and Melanie Rickey also converted their civil partnership into a marriage.
About 150 couples in the city plan to change their civil unions to marriages.
Ten registrars took the couples through the administrative process at 10:00 GMT at Brighton Town Hall, and all 10 couples received a commemorative certificate.
Superintendent registrar Linda Holm said Brighton and Hove City Council wanted to offer as many couples as possible to be the first to make the change.
Afterwards, Brighton council tweeted: "We've made history today as the first 10 couples in #Brighton & #Hove converted their #CivilPartnership to marriage!"
'Wildest dreams'
Ian Scott, 70, and Ron Williams, 82, from Brighton, were among the couples who took part.
Mr Scott said: "We are elated. We never thought it was something which would happen in our lifetime."
And Mr Williams said: "When I met Ian in the spring of 1962, I would not, in my wildest dreams, have imagined that one day we would be able to marry.
"Now 52 years on, we will be able to have equality of opportunity with straight people."
Ms Holm said: "It has been an absolute privilege to lead the registrar team through this year of historic changes in the law and to achieve greater equality for same-sex couples."
The Marriage (Same Sex Couples) Act came into effect on 29 March but there was no legal way for couples in civil partnerships to be married until the law was amended.
Couples who wish to convert their civil partnerships can either have a simple process at a register office or a two-stage process in which the conversion is completed in front of family and friends at another venue.
The administrative process is where the change is made.
The conversion ceremony has no legal standing but offers the couple a chance to share their happy news in the company of their loved ones, the council said.