Hastings Spronkers contest finds new use for sprouts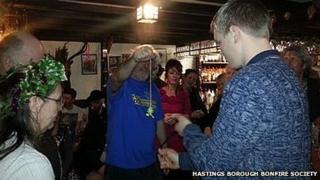 Left-over Brussels sprouts are being put to good use in the sixth International Spronkers Competition in Hastings.
The contest sees raw sprouts threaded on to string for a conkers-style game.
It is Hastings Borough Bonfire Society's first fundraising event for its 2015 bonfire event in East Sussex.
Organiser Nick Lynas - also known as King Sprout - said the event had moved to a larger venue this Boxing Day so more people could take part.
He said the idea came from one of the bonfire society members who used to play conkers with sprouts with her mother on Boxing Day.
The bonfire society liked the idea and decided to establish the world spronker championships.
'Knee-deep in sprout leaves'
The event began in the back room of a pub but has attracted more people each year.
This year's contest will be held on a raised stage at the Jenny Lind Inn in Hastings Old Town's High Street from 14:00 GMT.
Mr Lynas, bonfire society chairman, said organisers were not like the "conker fraternity".
"They would be very disdainful of anything like conkers filled with glue, but you can do what you want to your sprout," he said.
"They don't last very long - we end up knee-deep in sprout leaves," he added.
Contestants aim to spronk the other sprout and win two points for a head-on hit, one point for a glancing sprout, and they have three attempts at the other person's sprout.
The player with the most points goes through to the next round, but anyone who gets despronked can get another sprout and start again, Mr Lynas said.
The bonfire society is already filling its diary with events to raise funds for its procession on 17 October.
In May, it plans to hold another world championship - this time for cross-dressing miniature golf.