Brighton Marina campaigners pin hopes on appeal hearing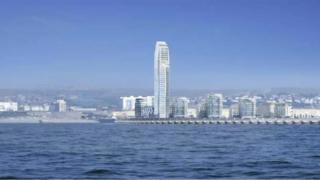 Campaigners against the construction of 11 tower blocks in Brighton Marina are hoping that an Appeal Court hearing will halt the development.
After years of debate, the project was approved in 2006 and work began on the first two buildings at the end of 2013.
Robert Powell, from the Brighton Marina Action Group, said the area was "never intended to be a high-rise, high-density housing development".
Brunswick Developments said the legal challenge would have no impact.
Managing Director Andrew Goodall said all the issues had been addressed during a "rigorous" four-year planning process.
'Wrong sort of housing'
The apartment blocks range in height from six storeys to 40, with a total of 853 flats.
Work on phase one of the Outer Harbour is due to be completed by the middle of 2016, and was "continuing at a pace", Mr Goodall said.
It includes the first two apartment blocks - with 195 flats, 20 of which will be affordable housing, an RNLI building and yacht club, and seven new restaurants.
The development is all on reclaimed land inside the marina.
Last month, a High Court judge gave Mr Powell permission to appeal against an earlier judgment that blocked a judicial inquiry into the building of high-rise towers in the marina.
Mr Goodall said: "At that [earlier] hearing the judge said it was inconceivable to stop construction".
But Mr Powell said campaigners against the development had always maintained that it was "the wrong sort of housing" for the city, with inadequate infrastructure.
"The marina was designed as, and meant to be, a place for yachts, yachting and leisure activities," he said.
The Appeal Court hearing is due to take place towards the end of January, or early February.
Campaigners, who include residents living in and around the marina, have said they hope the legal challenge will prevent further towers from being constructed.