Man accused of flat arson attack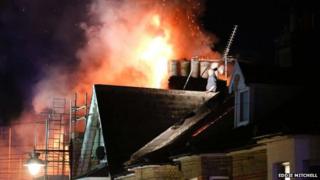 A man seen throwing tiles from the roof of flats in West Sussex has been arrested on suspicion of causing a severe fire which gutted one property.
Police said a man was throwing tiles from the roof of the three-storey property in Littlehampton when officers arrived at about 21:15 GMT on Tuesday.
Firefighters spent two hours tackling the blaze in Bayford Road.
Sussex Police said a 49-year-old man was arrested and taken to Worthing Hospital for treatment.
"We are appealing to anyone who has any information about how the fire started or has suffered damage to property as a result of this incident to come forward," Insp Marc Clothier said.
"The road has reopened and we will be speaking to residents today to reassure them."
West Sussex Fire and Rescue said the cause of the blaze was still under investigation.