Brighton homeless spur Henfield woman to set up charity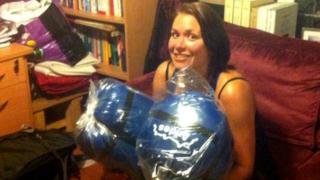 A woman shocked by the number of homeless people she saw in Brighton and Hove while celebrating Christmas with work colleagues has set up a charity.
Lydia Sinclair, 31, from Henfield in West Sussex, originally set up a week-long appeal for donations of sleeping bags and warm clothing on Facebook.
She had such an overwhelming response that she registered Brighton In Need.
Donations have included thermal hats and gloves, sleeping bags, coats, jumpers and non-perishable food.
'Went crazy'
Ms Sinclair, who also runs a recruitment business, said: "I bought some food for a homeless guy and suddenly realised just how many homeless people were out on the streets - certainly a lot more than I'd seen in previous years.
"So it spurred me into action... to get some bits together and do a drop onto the street with some rucksacks and sleeping bags and things, and it took off.
"It just went crazy. The first drop I did had 32 ready made-up packs, 20 brand new sleeping bags, several coats, roll mats, and dog food."
Ms Sinclair has managed to gather so many supplies that she is also able to give donations to shelters and drop-in centres across the city.
"It's far more than I'd ever hoped, and it's continuing despite going past Christmas and the Christmas spirit.
"It would have been very silly of me to walk away or to downscale," she said.