MP's claims over Royal Sussex Hospital's 'fiddled' A&E times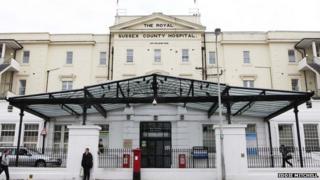 A Sussex hospital has denied an MP's claims it is "fiddling" its figures by refusing to accept patients arriving at A&E by ambulance.
Norman Baker, Lib Dem MP for Lewes, told the House of Commons ambulances had been left waiting at Brighton's Royal Sussex County Hospital.
He said patients were kept waiting until the hospital could deal with them within its four-hour target.
The hospital trust said all patients were registered within 15 minutes.
Speaking during a debate on health services in his constituency, Mr Baker said: "This was raised by the chief executive of the South East Coast Ambulance Service...that ambulances are being left waiting outside the A&E section of the hospital in Brighton.
"Why? Because the hospital doesn't want to accept the cases because it worsens their figures for the time when people are waiting in A&E.
"So in order to fiddle the figures effectively, ambulances are wasting their time with patients being kept there until the hospital is confident it can keep them in the four-hour limit.
"In my view, as soon as the ambulance arrives on the forecourt or in the premises of the acute hospital, that's when the clock should start ticking."
Brighton and Sussex University Hospitals NHS Trust said: "We strongly refute the claims made by Mr Baker.
"In line with national guidance, all patients who arrive in our A&E department by ambulance are registered within 15 minutes, which is when the A&E four-hour waiting time clock starts.
"When the department is very busy, ambulance crews are sometimes required to wait with their patients but patients are never left in ambulances outside of A&E,
"They are always admitted into the department."
Health Minister Dan Poulter said he would write to Mr Baker about the issue.
South East Coast Ambulance Service said significant delays in handing over patients at many hospitals in its area had seriously impeded its ability to respond to patients suffering emergencies and had placed its front-line staff under real pressure.