PM criticises 'never on time' 07:29 Brighton to London Victoria train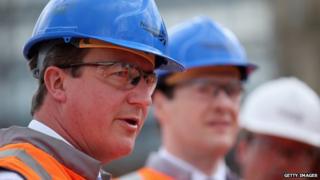 A rail service which was late every day for a year was "not good enough", the Prime Minister has said.
The 07:29 Brighton to London Victoria train service failed to arrive on time on any of its 240 attempts in 2014.
Commuters pay on average over £4,000 a year for a season ticket. The train is scheduled to arrive in London at 08:35.
David Cameron said delayed services were "extremely frustrating" and warned rail operators could lose their franchise over delayed services.
Speaking to BBC Sussex and BBC Surrey, he added: "Frankly if the operators continue to fail then they should be at risk of losing their franchise... because it's not good enough to have services like this."
'Particularly disappointing'
A spokesman for Southern said: "We acknowledge that the performance of the 07.29 Brighton to London Victoria service has been particularly disappointing.
"This is a train that we know has a poor PPM (public performance measure) record and although we're working hard to improve its performance, its planned path is extremely tight because the network is so busy."
Brighton Pavilion MP Caroline Lucas has called for an "urgent rail summit" to address problems faced by commuters in the south east of England.
She has written to the chief executives of Govia and Network Rail.