'Lost' Victoria Cross found at Brighton museum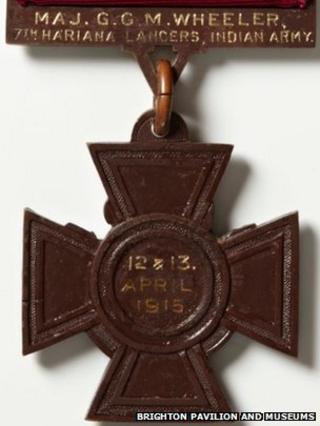 A Victoria Cross awarded posthumously to a British Army major killed in World War One has been found during a search at a Brighton museum.
The most prestigious gallantry award for British or Commonwealth service personnel belonged to Major George Godfrey Massy Wheeler who died in 1915.
It had been donated to the Royal Pavilion and Museums by his widow.
Museum staff found it while searching for items to display to mark the centenary of the start of the war.
Maj Wheeler died while serving with the 7th Hariana Lancers, Indian Army, in the Battle of Shaiba.
The citation said he was killed while leading his squadron to attack an enemy group who were firing on one of his men's military posts.
"He was seen far ahead of his men riding single-handed straight for the enemy's standards," it said.
Maj Wheeler, whose widow lived in Hove, is buried in Basra cemetery with more than 2,550 other British and Commonwealth troops.
Gary Stapleton, chairman of the Victoria Cross Trust, said the museum held some of Maj Wheeler's other medals but did not realise it also had his VC.
"It seems that that knowledge was lost over a period of time," he said.
"It's brilliant that it has been found after all this time."
He said it was hoped the medal could be displayed at the trust's new museum at Ashworth Barracks, Doncaster.
Andy Maxted, curator at the Royal Pavilion and Museums, said: "When we found the cross, we were delighted as it is such a great piece of history from World War One.