Threatened Brighton GP surgery to remain open, MP says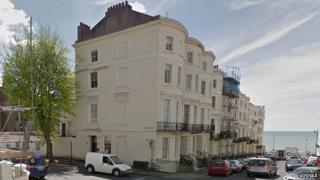 A Brighton surgery threatened with closure that would have left 6,000 patients having to find another GP will stay open, the local MP has said.
Simon Kirby, MP for Brighton Kemptown and Peacehaven, said Eaton Place surgery would continue to operate as an NHS practice.
NHS England said it had approved a proposal from Brighton Health and Wellbeing Centre to open a new branch.
The surgery's two partners are due to retire on 28 February.
Patients have previously been advised to re-register with other practises.
NHS England (South East) said setting up branch surgeries was a challenging process involving complex financial and contractual negotiations between practices and premises owners .
"Due to ongoing negotiations, NHS England cannot yet guarantee that the branch surgery will be able to open or by what date.," it said in a statement.
'Great for patients'
Brighton Health and Wellbeing Centre has an existing surgery in Western Road.
Mr Kirby, who has campaigned for the surgery to remain open, said the development was great news for local patients, particularly the elderly and disabled.
"Any patients who have already enrolled in another practice will be able to re-enrol at Eaton Place," he said.
NHS England (South East) said its first concern was to ensure all patients registered at Eaton Place surgery had access to GP services from 28 February.
"It is vitally important that all patients currently registered at Eaton Place continue to re-register with an alternative practice until NHS England confirms whether a branch surgery is opening at Eaton Place," it said.
"Even if a new branch surgery opens in Eaton Place in due course, patients would still need to re-register with another practice until the new surgery opens and is able to accept registrations."