Brighton low emission zone introduced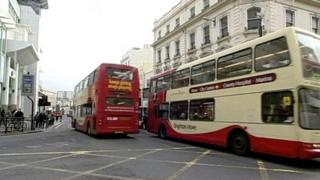 A low emission zone has been introduced in central Brighton affecting about 98% of bus routes through the city, according to the city council.
Some buses have had their exhaust systems modified to meet European standards Brighton and Hove City Council said.
Bus drivers are also required to switch off their engines if they expect to be stationary for more than a minute.
The zone covers Castle Square, North Street and parts of Western Road.
Councillor Ian Davey, lead member for transport at Brighton & Hove City Council, said: "Poor levels of air quality as a result of transport emissions have been a stubborn problem in some areas for more than 20 years.
"Positive joint working with bus and taxi operators has led to external funding and a strong commitment to a low emission zone for Brighton & Hove."
Martin Harris, managing director of Brighton and Hove Buses, said the company operated a fleet of almost 300 buses in the city meeting the required standard for the new low emission zone.