Brighton and Hove parking fee charges decision deferred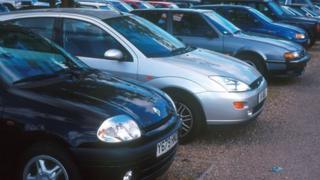 Brighton and Hove councillors have put off a decision on raising parking charges in the city, which would have doubled some short-stay fees.
The proposals, which would have raised the minimum charge in some popular city-centre car parks from £1 to £2, will now be considered next month.
Previous parking charge increases have prompted protests from traders worried about their impact on business.
But many longer-stay charges would be pegged or fall under the proposals.
Brighton and Hove Council is among the country's top earners from parking charges, collecting a surplus of £18.1m in 2013-14.
Its charging strategy reflects the policy of the Green Party-led council, to reduce congestion and air pollution in the city centre and encourage the use of alternative forms of transport.
But while one-hour fees at the Lanes, Regency Square and Trafalgar Street car parks would double under the proposals, charges for parking longer would be frozen at the Lanes and reduced in Regency Square.
Street-parking fee increases in the city centre and along parts of the seafront would range from 2.9% to 6.7% - above the 2% the council normally allows for inflation.
The committee felt the complex range of proposals would be better considered at the council's budget meeting on 26 February, when charges for museums and other cultural services will also be decided.