D-Day veteran Bernard Jordan's estate left to RNLI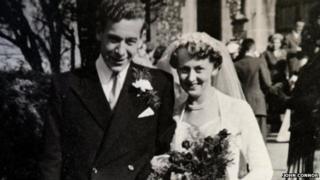 A World War Two veteran, who left his nursing home to go to France for D-Day commemorations, and his wife have left their estate to charity.
Bernard Jordan sparked a police search when he left the care home in Hove in June. He died on 30 December.
Irene Jordan, 88, died a week after her husband. They had been married for more than 65 years.
The couple's estate, worth about £600,000, has been left to the RNLI, the lifeboat charity said.
Paul Boissier, the RNLI 's chief executive, said: "This is absolutely wonderful, unexpected news.
"Bernard's story charmed the nation last year. That spirit, that determination, is embedded deep within the psyche of our volunteer lifeboat crews who go to sea to save others in peril on the sea."
'Wonderful gift'
The couple had been living at The Pines care home in Hove.
Mr Jordan left the home and travelled to the D-Day events in Normandy, wearing his war medals.
He joined British veterans, many making the final journey to visit the scene of the invasion and to commemorate their fallen comrades.
Mr Jordan was later made an honorary alderman of Brighton and Hove.
He died in hospital, aged 90, and Mrs Jordan died on 6 January.
Guy Rose, the legal admin manager for the RNLI, based in Poole, Dorset, said: "This is a wonderful gift from Bernard and Irene."
A commemoration service for the couple will be held on Friday.