Haywards Heath-to-Brighton move for neurosurgery unit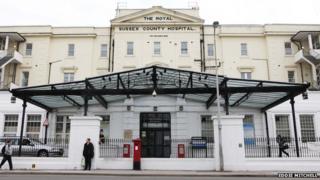 A neurosurgery unit in Sussex is to be relocated in a plan to put "key emergency services under one roof".
Neurosurgery services will move from the Princess Royal Hospital, in Haywards Heath, to the Royal Sussex County Hospital, in Brighton.
Hospital bosses said they hope the move will allow 350 more patients to be treated in Sussex, instead of London.
Dr Jonathan Andrews, from the Sussex Major Trauma Centre, said the move "will save lives".
The relocation is expected to take place late this year and combine trauma, stroke and head injury services.
Mr Andrews said: "We treat about 500 major trauma patients a year through the Major Trauma Centre and the missing piece in this jigsaw of expert care is neurosurgery.
"A huge amount of work has gone into developing this model of care and planning for the move.
"I am confident that having the highest level of expertise, experience and equipment in one place will help us save more lives."
The service moved to Haywards Heath in 1941 when it was evacuated during World War Two from the National Hospital of Neurology, in Queens Square, London.