Andrea Gada: David Cameron writes to funeral visas family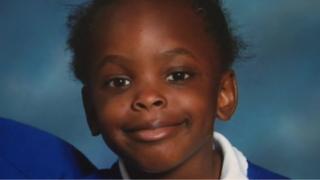 Prime Minister David Cameron has written personally to the parents of a girl, 5, whose relatives have been barred from the UK for her funeral.
Andrea Gada died after she was hit by a car in Eastbourne, East Sussex.
Her funeral was delayed in the hope her grandparents and aunt, from Zimbabwe, could attend. But, temporary visas have been refused twice.
Mr Cameron told parents Charity and Wellington Gada he had asked the home secretary to look into their case.
In his letter, Mr Cameron told the family he was very sorry to learn of "the tragic loss" of their daughter.
Petition raised
"I know the struggle of losing a child first-hand and hope that, in time, you find strength in the memory of the happier times you shared with Andrea," he said.
Earlier this week, Liberal Democrat MP for Eastbourne and Willingdon Stephen Lloyd said the family had been told by the Home Office to reapply for temporary visas.
It came after a petition, signed by more than 120,000 people, was handed in to Downing Street.
Mrs Gada, 32, said the intervention of Mr Cameron had given the family fresh hope.
"We are just waiting now and hoping that we will get a good outcome, as we have been through this before," she said.
"Everything is on hold and in suspense. We just want to find out the final decision.
"The Home Office has just been assuming that because of the situation in Zimbabwe, our relatives will not go back.
"But if they had any of these intentions, why would we have gone so public?"
The community of Eastbourne has helped raise money for the relatives to attend, and the family have offered to wear electronic tags and report to the local police station.
The funeral of Andrea, who died following the crash on 16 December, is due to take place on 9 February.