St Mary's School in Bexhill not taking new pupils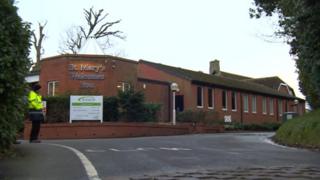 A school for children with speech, language and communication difficulties put into special measures will not be taking any new pupils.
Ofsted inspectors have rated St Mary's School and Sixth Form College, in Bexhill, East Sussex, as inadequate,
A spokesman for East Sussex County Council said: "A decision has been made that we won't be sending any new pupils there for the foreseeable future."
The principal of the school said she would not be resigning.
The education watchdog's report branded the school as inadequate in all six categories, including leadership, behaviour and safety of pupils and quality of teaching, following the inspection in November.
Dr Sharon Menghini, the CEO and Principal of St Mary's, said: "I'm a very strong leader,
"I'm very clear about what needs to be done at the school, and I have the support of trustees and governors, and the majority of the staff.
'Get on with it'
"It's painful and everyone has their own emotional response to it [the Ofsted report], but I think we're past that now."
The mixed school currently has 104 pupils aged between seven and 19. Eighty-six of them are residential.
The school's previous inspection in May 2012 was rated as good.
In the past two years its senior management team has changed and nearly 140 staff have left.
Dr Menghini said: "The majority of people here now just want to get on with it."