Women grab man's wrists to stop Newhaven bridge fall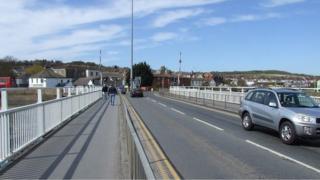 A mother and daughter saved a man's life by clinging to his wrists as he dangled from a bridge.
The pair grabbed the 25-year-old man just as he let go of the Newhaven swing bridge over the River Ouse in East Sussex on Wednesday night.
Police, along with two people carrying ropes and a lifebuoy, also came to his aid.
The man was detained under the Mental Health Act and taken to hospital in Eastbourne for treatment.
The women had been in a car on the A259 when they spotted the man standing on safety railings on the north side of the bridge just before 23:00 GMT.
Sgt Kevin Lette, of Sussex Police, said they had "showed great presence of mind and, indeed, courage, as they hung on to him while officers ran to help".
"They were also in some danger as the man was struggling to release himself and the river below was approaching high tide, which generates strong currents," he said.