Uckfield town votes to hold parking referendum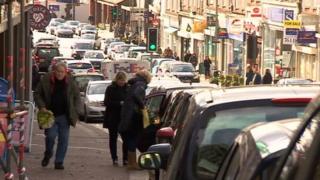 Town residents have voted to hold a referendum on plans to remove on-street parking from the high street.
East Sussex County Council said the move would alleviate congestion in Uckfield, but campaigners opposing the scheme believe shoppers will go to other towns as a result.
Uckfield town council heard a motion calling for a referendum on the issue at its meeting on Saturday.
The motion said the both councils had not listened to traders and citizens.
The parking plans are part of the Uckfield Town Centre Highway Improvement Scheme, under which 35 out of 43 high street parking slots will be removed, four loading bays and four disabled parking bays will be created, and the town will have 1,000 slots in car parks nearby.
But campaigner Chris Lawson said: "It doesn't make any sense at all. You cannot overestimate the power of being able to pop into the high street, get a few bits and go."
Another campaigner, James Anderson, said: "The council are not listening, so we've had to go down the referendum route. We needed to do something tough."
East Sussex County Council said the town centre improvement scheme was introduced to tackle congestion, following consultation with the public.