Charity pulls out of West Sussex meals on wheels service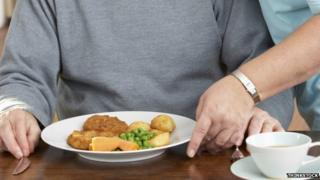 The charity which delivers more than 4,000 meals on wheels every week to older and housebound residents in West Sussex is pulling out of its contract.
The Royal Voluntary Service (RVS) said its seven-day-a-week meal delivery service was "losing significant amounts of money every day".
West Sussex County Council said it was looking at getting a new provider in place "as quickly as possible".
The RVS said it would continue delivering meals until October.
David McCullough, chief executive of the RVS, said: "Together with West Sussex County Council, the charity pioneered a new service because we wanted to offer the county's older residents the best possible service; good quality food, delivered, plated and served by people who care.
"We very much regret having to make this decision but the operational reality of providing this service with the funds available, means the charity is losing significant amounts of money every day."
The charity delivers about 4,400 meals each week in West Sussex.
New provider
Last month, research done by the Labour Party based on Freedom of Information requests, showed nationally 109,000 people had meals delivered to them in 2014/15, down from 296,000 in 2009/10.
Conservative councillor Peter Catchpole, West Sussex County Council (WSCC) member for adult social care, said the authority had been working closely with the charity "to try to make it work".
He said: "We wanted our residents to receive the best possible provision at an affordable price and we believed the innovative and improved service proposed by the Royal Voluntary Service during the tender process in 2013 offered just that.
"We are working extremely hard to ensure an arrangement with a new provider is in place as quickly as possible. This will include providing lunches for WSCC day centres."