DJ Fatboy Slim gets Brighton university award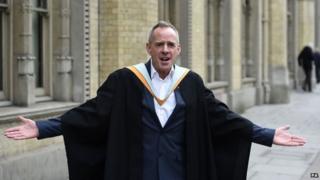 Fatboy Slim has received an award from the university where he studied.
The DJ and producer, real name Norman Cook, was given the University of Brighton's Alumnus Award for his contribution to the music industry and his support for the institution.
The 51-year-old gained his degree in British Studies in the 1980s when the university was Brighton Polytechnic.
He was presented with his award at Brighton Dome, on the first of two days of ceremonies.
Accompanied by his parents and wife, TV and radio presenter Zoe Ball, he told graduates that graduation marked the start of them embarking on their dreams.
He told the students his studies got him where he is today.
'Indulge dreams'
"I am immensely proud of my degree, proud of this university, proud of this fine city and immensely proud to be stood here 30 years on, receiving this wonderful award in front of the very parents who made it happen," he said.
"Most of all I am proud of you, the graduates, because today is all about you."
And he added: "Congratulations. May your lives flourish and prosper and remember; if you do have any nagging dreams, you have now earned the right to perhaps indulge them."
BBC News presenter Nicholas Owen also received an award.
He was given an honorary Doctor of Letters for his contribution to journalism and services to charity.
In his acceptance speech, Mr Owen advised students: "If you see a door a quarter open, always go through it.
"There is nothing worse than having regrets."
More than 1,800 students are graduating from the university.