Brighton easy access footpath turned into 'mud bath'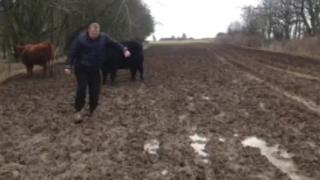 A five mile (8km) footpath advertised as "easy access" has become a mud bath because cattle are allowed to roam across the land, campaigners say.
The path, just outside Brighton, sweeps around Stanmer Park, along a ridge on the South Downs and through woods.
Lewes transport campaigner Chris Smith said: "It was opened at great expense just a few years ago but has been made impassable."
Brighton and Hove City Council said it recognised the path needed improving.
'Fence area off'
The council's leaflet shows a woman with a pushchair using the path but says that people using buggies or wheelchairs may prefer to miss out certain sections.
"This is an excellent facility for people in wheelchairs if it's actually useable," said Mr Smith.
"It would have been very easy to fence this area off so the cattle couldn't get here or create a proper surface so it's not vulnerable to bad weather.
"The solution probably is to wait until summer and then do some fairly major maintenance work and keep cows off it in future."
The council said the path had never been designated as being appropriate for wheelchairs.
It said in a statement: "It is more difficult to keep footpaths in good order during the winter months, but nonetheless we recognise that the path currently needs improving.
"We are liaising with our agricultural agents and our tenant farmer to see how this can best be achieved in a way that improves access for residents without detracting from the farmer's business operation."