Brighton petrol pumps and bollards 'are heritage assets'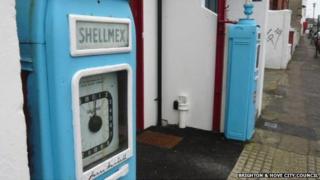 Two defunct 1950s petrol pumps are set to be added to an official list of historically important landmarks and spaces.
The garage they served, in Bath Street, Brighton, is now a private house. The pumps were in operation until 2010.
They have been included on a draft list of heritage assets suggested by residents proposed for "local listing".
Also included are several pubs and other buildings, phone and post boxes, a clock tower and a pair of bollards.
The 19th Century cast iron bollards are near the entrance to the churchyard of St Nicholas' Church in Dyke Road.
The council said they were "an unusual survival which contributes positively to the area and setting of the church".
London Road railway station in Shaftesbury Place, Preston Circus fire station and Hove Town Hall are other landmarks also listed.
Local listing does not carry the same legal protection as statutory listing, but allows for the "special interest" of an asset to be taken into account when planning permission is required.
The landmarks were nominated by the public in 2013, with more than 500 nominations assessed against the approved selection criteria.
The city council has recommended that the petrol pumps and the bollards are included on the official list.
The public have been invited to comment on the draft list by 15 March.