Newhaven port growth 'threatens' surf beach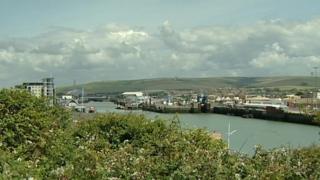 Plans to expand an East Sussex port could mean the loss of a popular surfing beach, campaigners have said.
Newhaven Port and Properties (NPP) has applied for permission to build a new berth and develop an area of land next to Tide Mills beach.
Nearly 1,600 people have signed a petition calling for the surf break to be recognised and protected.
NPP says it is conscious of the amenity value of the Tide Mills area and the need to preserve the seashore.
'Real gem'
Surfer Jon Spong, from the Save Our Wave campaign, said the Tide Mills beach was a well used area of sandy beach separate from the West Beach, which was closed by NPP in 2008.
"It is the location of a rare surf break which is very well used by the wave sports community and we are doing our best to try and protect that," he said.
"It's a real gem in the crown of Newhaven."
He said the campaigners wanted a study of the oceanography that creates the breaking wave to be carried out.
"We want it to be surveyed and quantified so that it can be restored by the laying down of aggregates if the building works diminish it," he said.
NPP said the ability of the port to attract new business and jobs depended on the new quayside.
"The proposed development is an excellent and sensitive compromise between the need to grow and improve the port and the need to preserve the seashore and open areas enjoyed by local residents," it said in a statement.
The Court of Appeal last year ruled that the West Beach could be registered as a village green, after a separate campaign by local residents.
NPP challenged the decision at the Supreme Court, which is expected to hand down its judgment on Wednesday.