Brighton and Hove on-street parking meters removed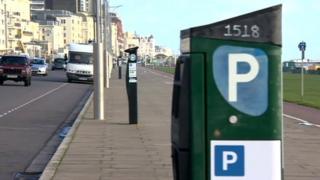 Half the on-street parking meters in Brighton and Hove are being removed as part of cost-cutting measures.
The city council said the move would save £250,000 a year and was part of a package of £26m in savings in the next financial year.
It follows a three-month trial in which 34 meters were removed. Drivers pay instead by phone or at shops.
The trial had "promising results" with 85,000 transactions made by other means and 19 complaints, the council said.
The process of removing the meters is due to be completed by June.
Savings will come from reduced maintenance and cash-collecting costs, the council said.
The council said half of its existing coin-operated meters would remain, and there were also 55 credit card machines in the city.
A transaction fee of 15p for phone payments has been cut to 10p, the council added.