Rupert Marshall's father 'gets message out' about pool alarms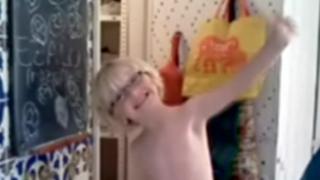 A father whose son drowned in a swimming pool while on holiday is warning other parents to get pool alarms to protect their children.
Five-year-old Rupert Marshall, of Heron's Ghyll, East Sussex, drowned in the shallow end of a pool Armacao De Pera in Portugal in 2013.
A coroner last week recorded a verdict of accidental death.
"If there had been an alarm in the pool that would probably have saved Rupert's life," said Adrian Marshall.
"That is why I wanted to speak to people about this and get the message out there."
Rupert was staying at a family-owned four-bedroom bungalow with his two older sisters, their father and his partner.
A Portuguese pathologist found he died from "asphyxia as a result of drowning".
Mr Marshall said that the day of the accident was the worst of his life.
He said that at the time he did not know about pool alarms, which use sensors to detect when the water is disturbed.
"Now I know that you can get alarms for the pool.
"If we had had an alarm when he fell it it would have gone off and we could have done something quickly.
"You can get alarms you can take on holiday and alarms that children can wear and I think that's a really good idea."
Michael Dunn of the UK Royal Life Saving Society said alarms and fences round pools could be an excellent way to improve water safety and reduce drownings.
"In Australia a few years ago all domestic pools were required to have child safety fencing around them and Australia has seen a reduction in drownings as a result.
"But the advice really starts before you go abroad.
"If you are looking to book a holiday think about the safety provisions around swimming pools and beaches before you go."