Brighton beach killer whale sculpture unveiled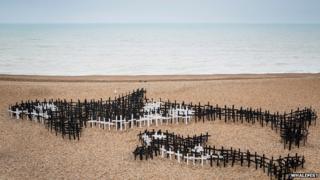 A 20-metre sculpture of a killer whale and its calf, made up of hundreds of black and white crosses, has been unveiled on Brighton beach.
The artwork, "Whale Graveyard - setting captive spirits free", was installed close to the derelict West Pier ahead of the city's annual WhaleFest.
Organisers say the 1,500 crosses represent a dolphin or whale that has died in captivity.
Marine parks that keep orcas insist the animals live long and healthy lives.
'Die unnecessarily'
But, festival organisers say the work aims to highlight the plight of marine mammals.
"Similar to the Tower of London's incredible 'poppies' tribute last year, we hope that the 'Whale Graveyard' will provide a moving reminder that marine animals continue to suffer and die unnecessarily in captivity," director, Ian Rowlands said.
"We are sure that this impressive art installation will be a great talking point and visual representation of the plight of marine mammals around the world."
The festival, which is calling for the release of captive whales and dolphins, takes place at the Brighton Centre on Saturday and Sunday.
The International Whaling Commission signed the first moratorium on whale hunting, in Brighton in 1982.