Nepalese officer Kumar Lama 'beat Maoist suspect'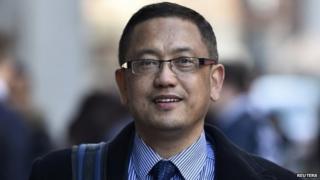 A man from Nepal has broken down in court as he described being beaten by army officials seeking confessions from him during the country's civil war.
Janak Raut, who said he was suspected of being a Maoist communist, was giving evidence at the Old Bailey trial of Lt Col Kumar Lama, 47.
Lt Col Lama is accused of ordering the torture of Mr Raut and Karam Hussain.
The Nepalese army officer, who now lives in St Leonard's, East Sussex, denies the charges.
Mr Raut told the jury his hands were cuffed with rope and he was blindfolded as his head was repeatedly hit against a concrete wall.
He also said he was beaten so hard with a bamboo cane that it snapped in two.
Indefinite leave
The court heard that on one occasion Lt Col Lama allegedly told his men to keep beating Mr Raut otherwise they would be sacked.
They were also told to replace the bamboo canes with an iron bar.
Prosecutor Bobbie Cheema QC has previously told the court Mr Raut was a medic who worked in a private health clinic and was not a Maoist.
The prosecution is being brought in Britain because of an obligation under the United Nations Convention Against Torture.
Lt Col Lama, who is on indefinite leave to stay in the UK, was in charge of a barracks in Nepal at the height of the conflict in 2005.
He was arrested under Section 134 of the Criminal Justice Act, a law that defines torture as a universal jurisdiction.
The trial continues.