Uckfield residents vote to keep parking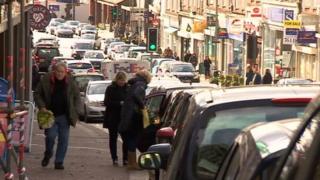 Residents have voted against plans to remove on-street parking from a Sussex high street.
Uckfield Town Council held a parish poll over the East Sussex County Council plans, which have drawn objections from residents and traders who fear losing shoppers.
Josh Gibbens, who proposed the "town referendum", said 1,489 voted against and 277 voted for the plans.
The county council said it would take the results into account.
Mr Gibbens said he was pleased with the 15.3% turnout for the poll, which was held over five hours, and added: "People were queuing up the staircase."
He said he hoped the county council would listen to campaigners and added: "This is hopefully the final message we need to send."
The plans are part of the Uckfield Town Centre Highway Improvement Scheme, which included proposals to remove 35 out of 43 High Street parking slots and create four loading bays and four disabled parking bays, with about 1,000 slots in car parks nearby.
The county council previously said the scheme was introduced to tackle congestion following public consultation.
A spokesman for the project board said: "We are listening to the people of Uckfield and are working hard to do what is best for the town."
He said the board would provide enough short-term parking while ensuring the High Street did not get congested.